The difference between Samue and Jinbei
Introduction
Difference in structure and wearing season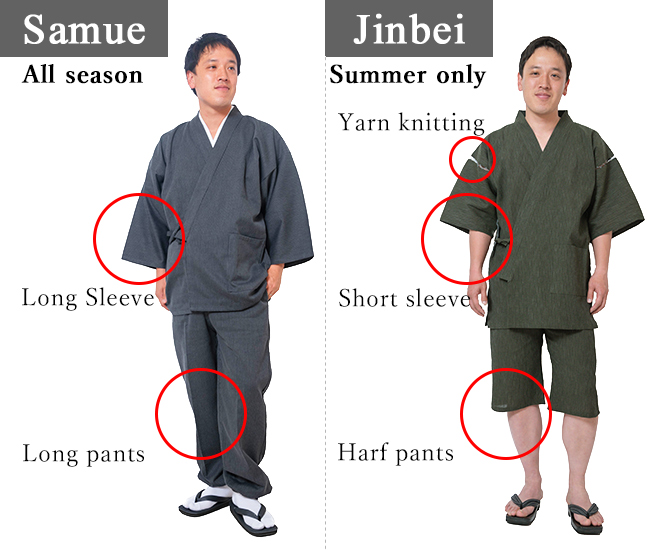 The crucial difference between Samue and Jinbei is pants. The trousers of the samue are long trousers up to the ankle, and Jinbei are shorts under the knee.
The second major difference is that many of Jinbei are knitted with yarn about the sholder parts for better ventilation (recently, many laces are used without knitting with yarn). Other parts vary greatly depending on the manufacturer of the Samue and Jinbei, but generally the sleeve length of the jacket is longer in the Samue than in Jinbei. The Samue are the flow of kimono, the shoulders are not stripped, and the sleeves are about the sleeve length of the kimono, but some types have long sleeves or the type that rolls up the sleeves.
    Samue is worn regardless of the season, but Jinbei is basically summer clothing. Jinbei wears a shorter season than Samue, and may be said to be a clothing created in consideration of how cool it is to spend the hot summer in Japan. There are various variations of Samue worn all seasons according to the season.
Material differences
Cotton is the main material for both Samue and Jinbei. Jinbei wears mainly for cool, so there are relatively many hemp and cotton blends or 100% hemp. The Samue also have hemp in summer, but unlike Jinbei, they are worn in seasons other than summer, so in addition to cotton, hemp clothes in summer, batting in winter, fleece. There are more variations of the specification and the kind of materials than Jinbei. Cotton fabrics are also widely used in Samue, from thick cotton fabrics to fairly thin fabrics.

Click here for Samue for each material
Different uses
Both Jinbei and Samue are "relax wear", but Jinbei is more limited in use than the Samue. Jinbei is worn in the summer as relaxed clothing, and as clothing for the summer festivals also.

There are many other uses for Samue. Most of them are worn to relax as room clothes or everyday clothes. The clerk at the restaurant, the Japanese confectionery craftsman, … and of course the monk … Recently, some luxury japanese hotels have prepared Samue instead of yukata as sleepwear for customers who do not like yukata.

Conclusion
At present, there are various types of Samue and Jinbei. As mentioned above, especially in the case of Samue, as both relaxing and working clothes, when it is possible to wear it all season, there are types of Samue that are finely tailored to each case. For beginners, we recommend wearing a thin cotton fabric Samue (Kasuri Tsumugi Samue and slab Samue) that can be worn for a relatively long time and are comfortable, but depending on your own use and preference If you have any trouble, please feel free to contact Wasuian by email. Our experts in Samue and Jinbei will carefully answer your questions.
Once you understand the difference between Samue and Jinbei, the next step is to choose a product. Click the following items to purchase Jinbei and Samue!